IFR Workwear, a leading Canadian brand in premium quality flame and arc resistant workwear, is pleased to announce it has been acquired by the global leader in protective workwear apparel, safety footwear, and PPE, Portwest.
Established by Reg Radford and Erin Buckland in 2005, IFR Workwear is one of Canada's leading brands of premium FR products, who design and manufacture exceptional safety garments for millions of wearers throughout Canada. They operate a fully owned factory in Mexico, two warehouses in USA and Canada, and employ over 250 people across all sites.
Erin Buckland, President of IFR Workwear, welcomed the move saying, "IFR Workwear will continue to provide fantastic quality and service to our customers. Portwest and IFR Workwear are very compatible organizations, and we share the same route to market by selling only to distributors and resellers. We are experts in FR garments and this move will open many opportunities for our customers as well as expanding our fantastic product offering."
She added "This strategic acquisition will allow IFR Workwear to develop faster in North America. I am delighted to remain on the management team at IFR Workwear and our core commitment of developing pioneering products, investment in stock and rapid customer service remains unchanged."
Portwest is one of the fastest growing protective wear companies in the world, specializing in flame resistant, high visibility, workwear, hand and foot protection products in addition to a full range of personal protective equipment. Founded in Co. Mayo, Ireland in 1904, the company is proud to remain family owned in its fourth generation. Portwest employs over 5,300 people worldwide, has sales in over 130 countries, warehousing facilities in Ireland, UK, Poland, Spain, Italy, Albania, UAE, China, Australia, New Zealand and the USA and four fully owned factories in Europe & Asia.
Portwest Chairperson, Cathal Hughes commented, "Acquiring market leading companies is part of Portwest Group's growth strategy. This is our first entry into the Canadian market, and we look forward to working with IFR to continue to grow and offer our customers a best-in-class product and service offering."
Portwest Managing Director, Iñigo Perez Corella said, "We welcome all stakeholders of IFR to the Portwest group. IFR Workwear will benefit from the global presence of Portwest and Portwest will benefit from the relevant presence in Canada and the production facility in Mexico. Together we will bring a new reinforced value proposition to customers in Canada with a mix of value for money, excellent service and innovation".
He added that "Investment in innovative, market-leading workwear and safety companies is part of the Portwest Group's growth strategy. We previously acquired two Australian workwear companies and invested in a premium Italian footwear brand, Base Protection, all of which reinforce our value proposition to our customers".
Director Corella concluded by stating "IFR Workwear is another example of Portwest's acquisition strategy that is built upon strengthening our portfolio of products and technologies, as well as entering markets through the acquisition of relevant players in specific product ranges. Our commitment to growth and global presence makes us continuously look to new acquisition opportunities."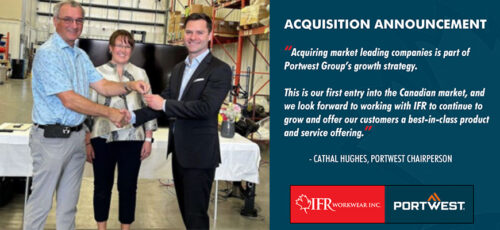 Back